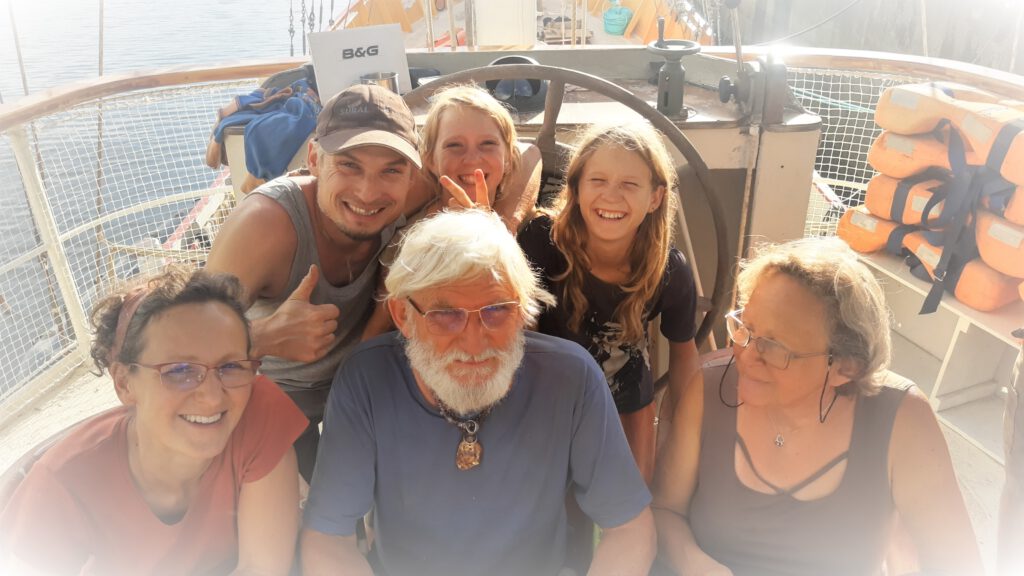 Born and raised in Mönchen-Gladbach in 1958.
He worked as a weaver, carpenter, reinforced concrete worker (bridge builder), in the forest, as a meat seller, in a glass factory, building tents and as a freelance ceramist. At the age of 20 he married his good fairy Gabi, who gave him 3 sons.
Both of them had the desire to lead a free, self-determined life from an early age and began to look after themselves through gardening and handicrafts.
In order to fully realize their common dream, the family moved to the Eifel in 1986 and bought an old farm there. The first animals followed, their own fields were cultivated without herbicides and pesticides.
Disease and doctor odyssey
At that time Jürgen was repeatedly tormented by severe back pain and malaise. Constant bouts of pain soon made him unable to work, and his doctor odyssey began.
After countless hospital stays and voluntary drug tests, he decided in 2000, after 14 years of pain, to die rather than continue exposing himself to it. He literally crawled on all fours into the woods, where he finally found some peace again.
Unexpectedly he saw beings and heard voices that pointed to medicinal plants that would help him. He risked it – and everything helped him, even if he didn't even know what he was eating.
Education
In meditation he was trained to be a shaman by spiritual beings, while he gradually became fitter again. At the same time he gained more and more insights into our creation from the spiritual world – with the condition that this knowledge be made accessible to others.
Even if he initially resisted, the regained health was proof enough that Geist really existed, and so over the years he has helped around 7,000 people in Germany with their personal problems. It later emerged that he had Lyme disease, which was not recognized.
The family becomes a community
By leading the spiritual world, he bought an old youth hostel in the southern Black Forest, which he renovated with friends and family and opened the "Heidehaus" – our community came together.
After a year it should go on to Africa, to the small country Togo. There we started to build something new in the middle of the bush. It was Jürgen's job to bring an old holy place back to life. The years in Togo, without any electricity and due to the lack of many amenities of civilization, gave him deep insights into the philosophy of how our system of creation is structured (you can find informations here).
After 8 years he went on to Bulgaria, where Jürgen was able to further develop and use his intellectual knowledge in the remote village of Odrintsi. Especially in the last few years in this region between Orient and Occident he has been inspired by his spiritual advisors more and more often to shift his work: away from the individual – towards greater things. It became his main task to have a healing effect on Mother Earth. In doing so, he worked intensively with the natural earth meridians, and thereby received the information from the spiritual world that a new task would soon be pending: life on water.
his life in the community
We as a community regard Jürgen as a teacher. Loosely, you could say that he has the hottest line to the top.
His insomnia, his way of doing without pleasures such as coffee, sweets, etc., simply the dedication with which he goes about his task, arouses respect in us. He approaches things with a consistency that deserves respect, and with a lot of creativity and concentration.
There is no question, no task in the matter, even if it is "only" the conversion of a stable, which he does not try to fathom seriously in meditation with his helpers of the spiritual world – and then every morning to discuss with the community how everything would be best to implement. We appreciate this humility in him to seriously question decisions and not to make them alone.
It is difficult to get across in writing what defines him, for that you should get to know him 🙂 We like his openness, and that he always lives his feelings and his mind transparently and does not hide anything.
In his being there is exactly the feeling that each of us would like to live the whole day: simply love. He even makes nonsense with the kids when he's had a particularly bad day and jokes around with them so heartily that some other adults wouldn't dare to do anything anymore.
Everyone gets help, even every animal that is not doing well. He takes time for everything and everyone, if he can somehow reconcile it with his main spiritual task. Even lunch is prepared by him with dedication, as if you were in a 5 star restaurant.
Maybe it is exactly that: You get a little bit of time for free, maybe a bit of an insight into a world that is simply overlaid by our world, and yet is there.
And when the door is a little open, you might dare to look through it.
We looked through it, we liked it, we want to go through – and between "I don't dare" and "I can't find the door" we still waver back and forth 🙂
And yet we are all involved in supporting Jürgen's Meridian Expedition 2021 to the best of our ability!
We can use your help! Why? You can find out here:
more information about our expedition here